Artist Jeremy Penn Paints Portrait of Rock Icon David Bowie
A question that has always fascinated me has been that of longevity in art.
What is it that makes an artist endure? What is it that causes an artist to turn from a painter into a legend; that causes his or her works to be pored over, discussed and debated for decades, or even centuries after their death?
The question is, of course, a bit of a philosophical one, not to mention a subjective one. However, I personally think that there are factors that often link 'successful' artists; those who have stood the test of time and still continue to inspire, captivate and sometimes perplex to this very day. One of those factors is the ability to alter and to shift with the times. Often, artists become conduits for the world around them; absorbing the political and social climate like a sponge and metamorphosizing to change their style as society itself changes.
This isn't limited to artists. Successful musicians are often also adept at disguising themselves, of 'becoming' a different entity to reflect the mood of the era. This chameleonic capacity is something that is attempted by many, but only mastered by a few.
David Bowie is one of those musicians who truly mastered the ability to metamorphosize. Initially, going back to my childhood, I was drawn to Bowie because of his music; those enduring, fantastically well written songs that speak to their audience on so many different levels. But, as I matured, I started to develop a fascination with the man himself. The man who seemed almost unknowable as a 'real' person, but instead, continually, restlessly reinvented himself, from a pillar-box red punk haired Ziggy Stardust to an uber-cool 'young American', to the pale faced, eerie 'man who fell to earth'.
From an aesthetic point of view, I was also drawn to his face; often wondering, as I examined images of him as Aladdin Sane, as an avant garde hippy or as a weathered older man, which one really represented him? Who was this man? How could I portray someone who so ceaselessly concealed himself behind a variety of masks? It became something of an obsession; a quest to delve beneath the wild face paints, the unnatural hair and variety of outfits, and seek out the man beneath. The real David Bowie. (or should we say, David Jones?)
My latest work seeks to explore beneath the chameleon exterior and uncover the truth of this iconic 20th century musician. As is so often the case with my work, I tend to focus in on the eyes; and this is certainly the focal point in this painting. Of course, Bowie has remarkable eyes anyway; almost alien in their startling, mismatched disharmony, and I wanted to exemplify this; but I wanted to go deeper than that; to get a sense of the man himself.
His bone structure is also absolutely perfect to work with, on an aesthetic level. The almost emaciated high cheekbones, razor sharp nose and slight, cruel curve of the lips all create wonderful lines to work with; which I very much wanted to highlight in this painting.
I've selected to depict Bowie staring directly at the viewer; an appraising, nostalgic, almost wearied gaze that burns out of the canvas. I wanted to capture that sense of the confrontational; the fearless, experimental spirit that he so often exhibits when performing (and in interviews) but also a sense of deep emotional response; that raw, heartfelt personality that comes out every so often in his music, such as 'Life on Mars' and more recently, 'Where Are We Now'. Searching, soulful, challenging and emotive.
Painting Process Video
I worked in my favored palette of Prussian blues, because in this case, the sombre, weighty gravitas of the color scheme complemented the depth of the portrait; lending Bowie's face an added sense of timelessness and permanency (to contrast deliberately with his more usual ceaselessly shifting appearance); with a potent orange in the background; raising the portrait into the foreground and rendering it iconic and potent. Incidentally; this hue, that I think of in my mind as 'Francis Bacon' orange, is one I have been trying to capture for years, and finally, I have it! Right here, working in tandem with a portrait of another British man, who, in his own way, is equally as intriguing and captivating as Bacon himself.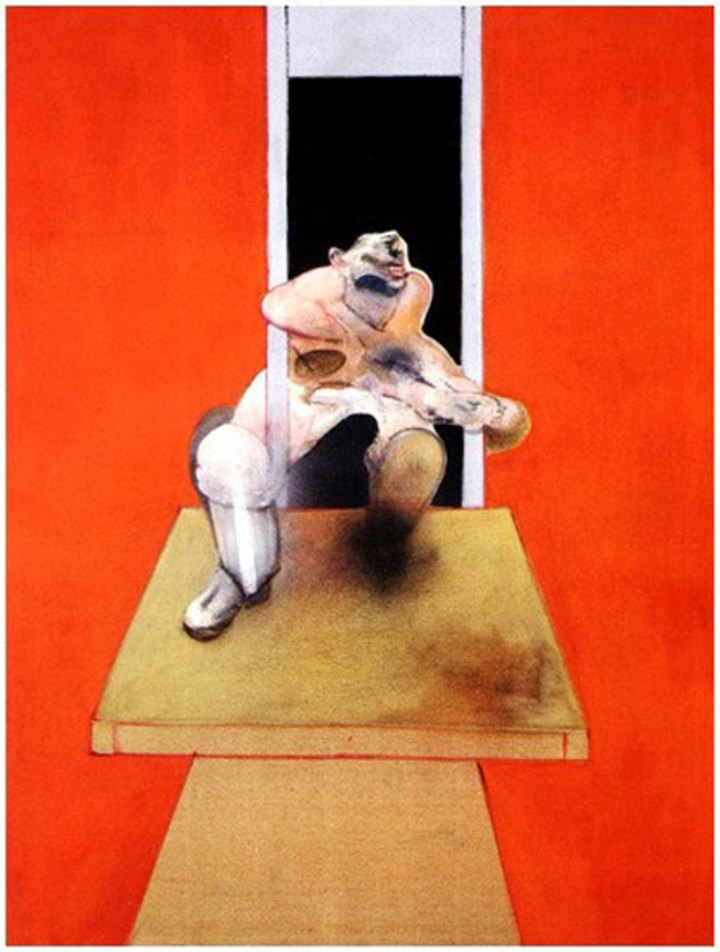 In conclusion, I must give a shout out to fellow artist Borbay for assisting me in formulating the perfect orange.